Profile

Fayanora: The Djao'Mor'Terra Collective
Ex tenebris lux. Ex luce tenebrae.
Free Account
Created on 2009-05-06 04:18:17 (#302328), last updated 2017-05-28 (1 hour ago)
15,752 comments received, 576 comments posted
5,232 Journal Entries, 1,070 Tags, 0 Memories, 97 Icons

About

Mini Bio
THE DJAO'MOR'TERRA COLLECTIVE: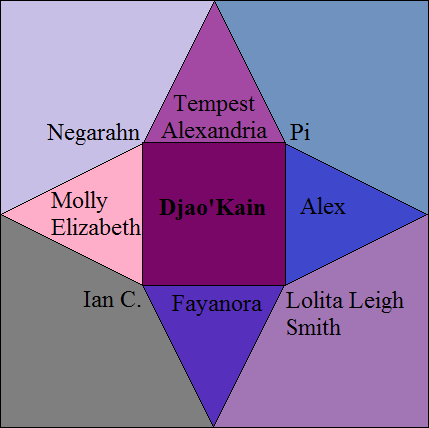 I am Chaos Incarnate. A Multiple, a Pagan, an Aspie, and a bunch of other labels. But I am beyond labels. I am so far out of the box that the box is floating away on the ocean towards the horizon.
My primary blog is at
http://fayanora.livejournal.com
. I try to mirror that one over here (and at IJ, where it cross-posts to) as much as possible, but there are lots of littler posts I make at LJ that I don't bother cross-posting over here. So there's more content at my LJ.
There's also a lot more info in
my LJ profile
that I'm too lazy to cross-post over here.


Connect
across the sea of suns,
ageplay
,
androgyny
,
bdsm
,
bisexuality
,
charmed
,
creature feature
, danna paola,
david brin
,
ego likeness
, elfin leid,
firefly
,
genderqueer
,
gits:sac
,
gregory benford
,
harry potter
,
hilary duff
,
inuyasha
, maria isabel,
multiplicity
,
otherkin
,
play
,
rammstein
,
reading
,
spirituality
,
star trek
,
stargate
,
the birthday massacre
,
voltaire
,
writing

People
[View Entries]

Communities
[View entries]

Member Of (44):
25book_pwd
,
access_fandom
,
accessibility_fail
,
accessibility_win
,
allpaths
,
androgynes
,
babyart
,
bipolygothgeekkinky
,
books
,
bullying_begone
,
cookability
,
crowdfunding
,
depression
,
disability
,
disabled_rage
,
disabling_queer
,
displacedsouls
,
dreamwalkers
,
dreamwidth_pagans
,
dw_accessibility
,
factfinding
,
fantasy
,
godfic
,
inuyasha
,
lgbtq
,
liberal
,
lingopickers_club
,
madebyus
,
more_than_one
,
muse_prompts
,
otherkin
,
otherkin_haven
,
paganbooks
,
plural_intersections
,
plurality
,
readme
,
science_fiction
,
shutterspeed
,
socialists
,
spectrum
,
tell_me_about
,
the_animist
,
the_thinking_pagan
,
worldbuilding

Subscriptions (46):
25book_pwd
,
access_fandom
,
accessibility_fail
,
accessibility_win
,
allpaths
,
androgynes
,
babyart
,
bipolygothgeekkinky
,
books
,
bullying_begone
,
cookability
,
crowdfunding
,
depression
,
disability
,
disabled_rage
,
disabling_queer
,
displacedsouls
,
dreamwalkers
,
dreamwidth_pagans
,
dw_accessibility
,
dw_maintenance
,
dw_news
,
factfinding
,
fantasy
,
inuyasha
,
lgbtq
,
liberal
,
lingopickers_club
,
madebyus
,
more_than_one
,
muse_prompts
,
otherkin
,
otherkin_haven
,
paganbooks
,
plural_intersections
,
plurality
,
readme
,
science_fiction
,
shutterspeed
,
socialists
,
spectrum
,
tell_me_about
,
the_animist
,
the_thinking_pagan
,
thefridayfive
,
worldbuilding

Administrator Of (0)

Feeds
[View Entries]

Subscriptions (0)

Linking
To link to this user, copy this code:
On Dreamwidth:
Elsewhere: